Brian's Lonely Dinner in Amsterdam

Brian went to dinner by himself to The Garlic Queen Restaurant tonight - on Regulierswardstraat - the friendly gay street. He had no one to spend time with. And despite the big smile - he was very sad.

Brian had a entree which was Duck mousse (pate) with smoked garlic. He drank Warsteiner beer. He had four - they were small. The duck pate was very good. Brian had a magazine to read about new PCs - so he would feel less lonely.

Brian forgot to take a picture of his garlic soup - a tomato creme base. He had penne pasta with mushrooms - and of course garlic - for his main. It also was very good.
Brian finished his magazine during the loneliness of a solitary dinner, while couples and groups of people around him talked and made merry.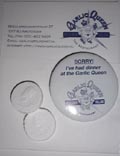 Thoughtfully the waiter gave Brian two mints and a button to wear warning people that he had just eaten garlic. Brian felt special.

Brian took a picture of himself eclipsing the Dutch queen, She didn't mind - because she is cool and smokes dope (I'm sure).