Ayumi in New York
I met Ayumi in New York City on Friday morning while Aki was stil flying in from Amsterdam. Ayumi arrived by Amtrak train. The background of this web page is a depiction of our meeting in Penn Station by Robert Campin (from The Cloisters).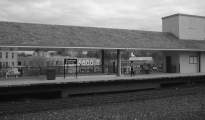 I left from Cranford, my old hometown, using mass transit of course!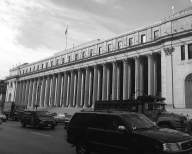 Ayumi and I met up at Penn Station. Just outside of Penn Station, Ayumi saw her first site - the main New York City Post Office! It was huge. I explained to her the history of the postal service and the meaning of the dictum carved in the building.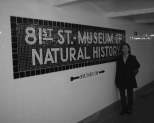 We zoomed uptown by subway from Penn Station while waiting for Aki to arrive. We went to the Metropolitan Museum. The subways were cleaner than I remembere them.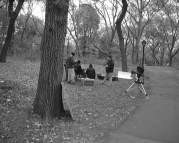 The trees were beautiful fall colors in Central Park - and I failed to notice my digital camera was set to only capture black and white! We passed what looked like a university film crew doing something.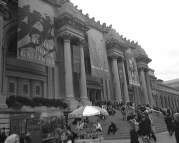 The Metropolitan Museum is huge! We only had about an hour and a half before Aki called us (after having problems with US Immigration in Newark Airport). We saw the collection of European paintins (including Van Gogh self-portrait), the Greek and Egyptian Antiquities and the coat check room.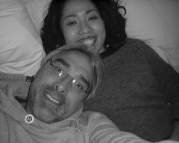 Aki caught up with us in New York, and we zoomed through traffic jams to drop our stuff off at the Le Refuge Bed and Breakfast in Brooklyn. A convenient 1/2 hour ride from central Manhattan (sigh). After waiting for a cab and the long ride, Aki and I collapsed for a few moments in bed.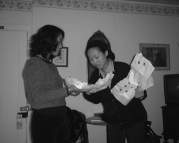 Then Aki went through the traditional Japanese gift exchange with Ayumi (where Aki attempts to explain the function of the latest thing she found in Amsterdam).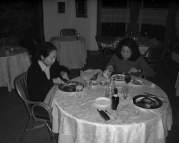 Aki was tired, Ayumi was tired. We had dinner in the restaurant downstairs. The B&B was owned by a displaced French chef. The menu was good. We ate, and then went to sleep early.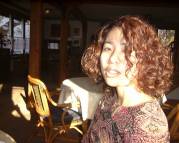 The next day proved much more colorful! Of course, Aki was a little slow on the uptake during our continental breakfast.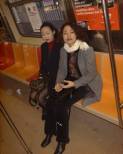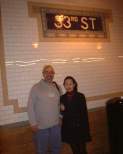 But a couple cups of tea were enough to jar her from sleep and we set off to the Big Apple on the Number 6 subway. We got off at 33rd Street.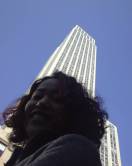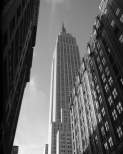 We made our way to the Empire State Building, it was an unexpectedly beautiful day! We had a huge wait to get to the elevators to take us to the observation deck (we went through a cheesy ride to try and get through the lines faster).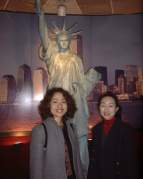 We did get a chance to take a picture in front of a down-sized statue (we couldn't make it to Liberty this trip).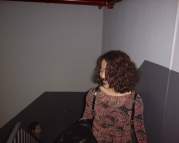 We climbed the last six stories by stair to avoid yet another line!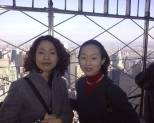 The wait was worth it! It was a beautiful day, very clear (as far as New York is concerned).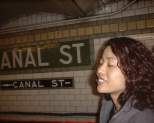 We hopped on the subway again, because my honey wanted Vietnamese noodles. There was a great place said to be in Chinatown. So we took ourselves to Canal St.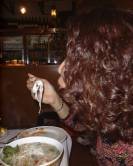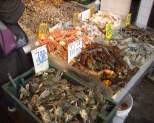 Aki loved her seafood rice noodle soup. We walked around Chinatown a little - very busy and cool.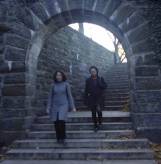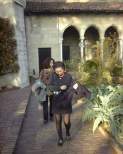 In spite of complaints from the lesser members of the party, I dragged everyone up to 190th street to The Cloisters - one of my favorite museums in the world! Just walking there through Fort Tryon park, overlooking the river, was wonderful. The reconstruction of several cloisters from Europe to house the Met's medieval art collection created an oasis of quiet and otherworldliness in Manhattan.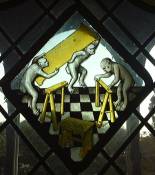 They had some very odd stained glass windows in addition to reliquaries and illuminated manuscripts.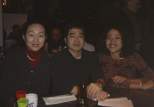 We then made a confused trip down to 110th St. to meet up with Aki's friend Eishin. He took us to a sushi restaurant in Greenwich Village (where I forgot to take a picture of the manager who was decked out in a very cool outfit).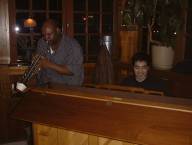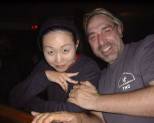 We then rushed to Brooklyn where Esihin - a Jazz pianist - had a gig. While Eishin played, Aki and Brian got drunk - and Ayumi just relaxed listening to the music.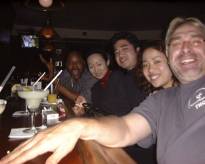 At the end of the night, the musicians (Erin and Eishin) of course relaxed.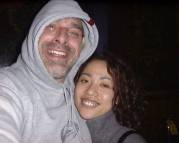 It was cold on the way home, but Brian had his homey sweatshirt. Aki hates the beard.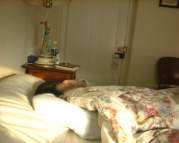 The next morning, even the people who didn't drink had some trouble getting up.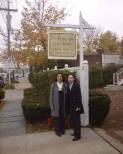 We said goodbye to Le Refuge, grabbed a breakfast in a diner in the city, and departed to our respective destinations.
It was a blast!
Aki