beepy's neighborhood

This is a fairly simple presence on the web. Been out and about here since the '90's.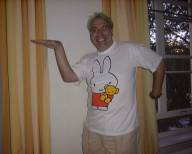 I study photography and you can find a portion of my work at:
Most of my work today ends up as prints, and does not appear much on line. For printing I have been studying alternative printing processes, and have blogged about them from time to time:
---
Photo collections
These are some old albums of interest perhaps to someone. They are:
Hilariously many of the above pictures were taken with a Fujifilm 1 megapixel odd point and shoot. It reawakened my interest in photography in part and got me started exploring the field deeply.
Hard to categorize
I am fascinated by typography. I used fontographer (from Macromedia I think) to create a scalable True Type font of my handwriting. I captured the strokes using a pressure sensitive Wacom tablet. It was a hoot. I want to play more when I have the time. (Right, the inside joke here is my handwriting is atrocious, and I often print out letters. A woman once told me that hand-written letters were more personal. I am sensitive about how bad my handwriting is, but I sent her one. She requested I go back to typing. So I created the beepy font as an offense against god).
Technical notes on web site stuff
Nothing really deep. I read parts of Philip Greenspun's book on Web Publishing - he argued for a lean and spare and simple web page design. I also found that buying web page designs for more complicated undertakings is not a bad idea - AllWebCo.com worked for me for my photography site. The Photo.Net site that I stumbled onto where the on-line book resides is way cool as a resource for photography. I ended up using Wordpress for my photography blog - started with blogger, but found their policies somewhat annoying.
On photography
So, where I am now is:
Sony a7R III which is well-matched to my interest in Alternative Printing Processes. I shoot hi-res digital mostly as the basis for making large digital negatives for various contact printing processes. After hacking apart an original Canon 1Ds to remove the hot filter to allow me to do infrared photography I had an old Canon 5D Mk II professionaly converted to shoot infrared by lifepixel.com. The effect of infrared for portrait shooting is sometimes quite dramatic and pleasing. Digita makes exposing and using infrared trivial. I shoot sometimes with 4x5 (and 8x10) view cameras. I favor my press cameras (Graflex) for 4x5 work. The 4x5 work I scan with an Imacon 646. My neck still hurts (I mean really) from the weight of these cameras.
Adobe Create Suite and Adobe Lightroom CC Classic form the core of my workflow. With the advances in capabilities of Lightroom over time I find I use Phtoshop increasingly only for compositing.
I use Adobe Dreamweaver for editing the raw index.html page — adding my commentaries.
The only thing I can say is that I expect this to evolve further. I have about 21 TB of images from my photography work, and have moved from 10 11 year old NetApp Inc storage to a four way tiered mirror solution. I shoot in Raw mode, or scan to 16 bit TIFF files.
Some of the work I have done is described in a series of articles on Alain Briot's site:
In one of my recent images which I like a lot I captured a dialogue discussing the meaning of the image.
---
Page updated November 2018.